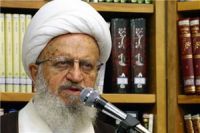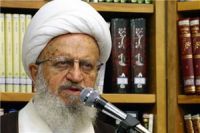 A senior Iranian religious cleric and Source of Emulation dismissed remarks by US officials about having the military option against Iran on the table.
According to Tasnim news agency, Ayatollah Nasser Makarem Shirazi described talking about military option as empty remarks saying the US officials are well aware that they will not dare to use the option against Iran.
He also rejected Washington's recent allegations that Tehran supports terrorism and seeks to achieve nuclear weapons.
Ayatollah Makarem Shirazi underscored that the allegations are baseless as Iran is striving to root out terrorism in the region and, regarding the nuclear issue, has opened doors for inspections on its nuclear activity.
He noted that major international nuclear watchdogs have admitted that there is no evidence Iran is trying to acquire nuclear weapons.
The US, Zionist regime, and some of their allies have repeatedly charged that Iran may intend to acquire nuclear-weapons capability in the future.