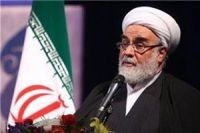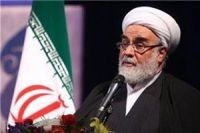 Chief of Staff of Leader of Islamic Ummah and Oppressed People Imam Seyyed Ali Khamenei says the United States and Zionist regime are running a think tank which programs criminal acts in Muslim countries including Egypt and Syria.
According to Press TV, Mohammad Mohammadi Golpayegani said on Sunday "Leaders of the US and Zionist regime are fanning the flames of conflicts in Egypt and Syria, and do not let people and governments in these countries decide their own fate."
He condemned the recent crimes in Syria and Egypt, saying they are incompatible with Islamic teachings.
The official stated "Plans for all crimes in Syria and Egypt are made by the US and Zionist leaders and submitted to their mercenaries. The instruments of these crimes are ignorant and spiteful commanders and rulers in certain Muslim countries."
Mohammadi Golpayegani urged scholars in all Muslim countries to raise public awareness to counter the enemies of Islam.
He pointed out scholars must remain vigilant and ward off any problem which would sow discord among Shia and Sunni Muslims.