Latin America
'Venezuela opposition not interested in reviving economy'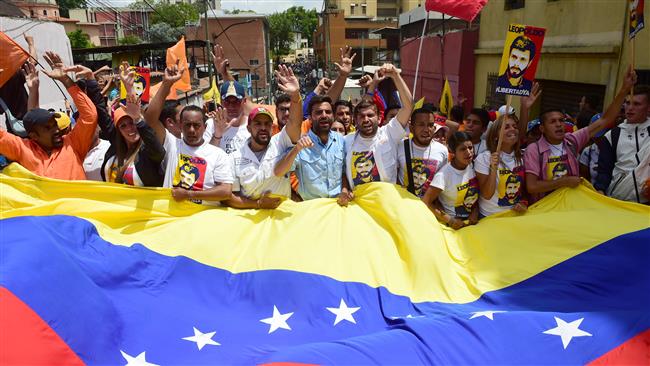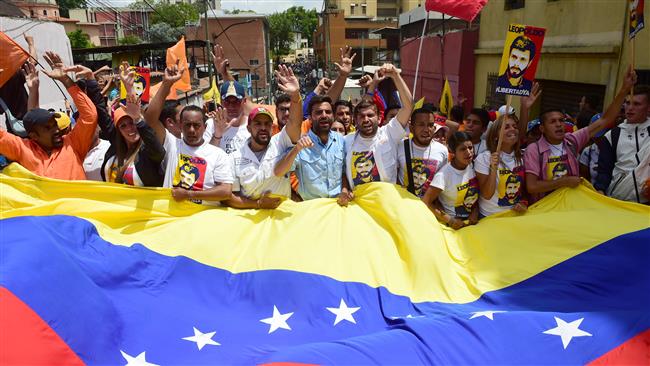 Venezuela has for weeks been the scene of bloody riots. The government is the target of heavy criticism from the opposition over a large-scale economic crisis, escalated by an acute shortage of food and medicine. President Nicolas Maduro's latest call for a new popular assembly to rewrite the constitution has further infuriated the opposition which sees his move as a veiled attempt to cling to power by avoiding elections. Press TV has asked Ibero-American affairs expert, Javier Farje, as well as congressional defense policy advisor, Frederick Peterson, to analyze the situation in the Latin American country.
Javier Farje believes Venezuela's top priority is to create an economy which will no longer depend on oil revenues.
He said what Venezuela needs right now is a reform of the current constitution so as to diversify the economy and stop the government's heavy reliance on petrodollars, adding the right move for President Maduro would be to amend the constitution instead of rewriting it.
Farje said the opposition is not interested in reviving the economy, and that after the 2002 failed coup which was supported by the United States, it started efforts to bring down the then president Hugo Chavez and is now trying to subvert Maduro's government.
He pointed out that the opposition does not represent the majority of the Venezuelan people, citing the results of polls which indicate about 60 percent of the population do not believe in the opposition's ability to improve the economic situation.
The expert went on to say that from the very moment that it was elected in 2015, the opposition-controlled National Assembly has been attempting to "undermine every single social program that the government has tried to implement."
He criticized the opposition for failing to put forth pragmatic solutions to ease Venezuela's economic hardships, and instead insisting that the president is not fit to rule the country.
Farje noted that violence and destruction of public buildings will by no means solve the economic problems in Venezuela.
"The people are sick and tired of the dichotomy between the opposition and the government," he noted, stressing that they want both sides to do something about the economic situation.
According to the expert, the only way for Venezuela to get out of this deadlock is by both sides to sit down at the negotiating table and work out a solution; otherwise, the situation is going to get worse and the people will eventually be the main losers.
Meanwhile, Frederick Peterson, the other panelist on the program blamed lack of freedom and the "imposition of socialist tyranny" for the current situation afflicting Venezuela.
"This is something that is very sad to watch and it is something that needs the intervention of the world on the side of the true freedom fighters in Venezuela" to ensure "their own country's best interests," he said.
The analyst further opined that the government only brings up excuses to justify the economic crisis, adding that Venezuela is a country blessed with great abundance, including fertile soil and rich oil reserves, which have been "grossly mismanaged."
Venezuela's economic crisis, he argued, is due to the "incompetence of the socialist state," and what the country needs more than anything is "a new government based on real freedom."