Iran
Latin America
Venezuela to cooperate with Iran, while developing domestic arms: Maduro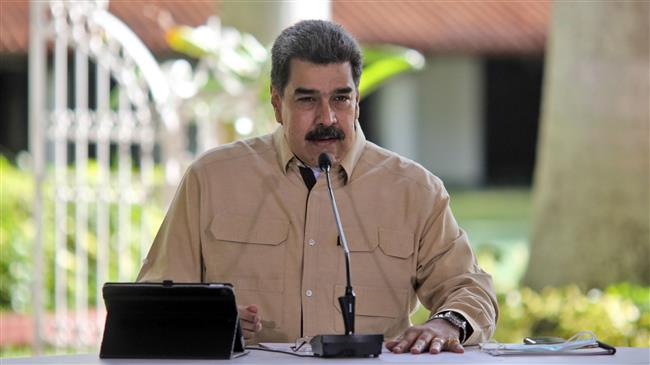 Venezuelan President Nicolas Maduro has underlined the continuation of his country's cooperation with Russia, China and Iran as well as other world states while implementing its plans to develop national armament systems.
Speaking at the commemoration of the 15th anniversary of Venezuela's Strategic Command Operations in the capital Caracas on Friday, Maduro said the country is planning to manufacture its own weapons and announced the establishment of a special military and scientific council for that purpose.
"We have everything we need to create our own system of weaponry, while continuing cooperation with Russia, China, Cuba, Iran and the entire world, we will continue receiving from them scientific, technological, weapons-related, [and] of course, strategic assistance, but we must move toward independence," Maduro stressed.
Venezuela enjoys good years-long relations with both Russia and China, with Moscow being one of Caracas' main suppliers of weapons and military technology, and China being a purchaser of the Latin American country's crude.
Moreover, Tehran and Caracas have over the years developed bilateral cooperation in a range of issues, including trade and oil industry.
Iran sent five gasoline tankers to Venezuela in May, easing the severe gas shortages there, and a ship with food in June, most of it for a new supermarket that covers an area of 20,000 square meters, selling more than 2,500 Iranian items including foodstuff, clothing, detergents, plastic, disposable products, nuts, and even tractors.
The administration of US President Donald Trump imposed on Monday a raft of new sanctions against Maduro for his cooperation with Iran.
The government in Caracas responded to the illegal US sanctions and denounced the move as an act of "aggression," saying such "arrogant" actions cannot prevent the South American country from exercising its right to forge economic relations with Iran or any other state.
In a video speech at the United Nations General Assembly on Wednesday, Maduro called on the international community to rally against unilateral US sanctions against various countries and characterized Washington as the "most serious threat" to global peace and stability.
Maduro censured the illegal sanctions by an "intransigent and hostile" Washington, and urged the UN member states to counter US sanctions imposed on his country.
Underlining that the US is the "most serious threat to peace in this world," the Venezuelan president said the illegal sanctions were endangering the stability of his country and the region, and called on Washington to respect the sovereignty of nations.
Washington has imposed sanctions on Venezuela's state oil company to pressure Maduro to resign, and has thrown its weight behind a putschist opposition figure.
Venezuela experienced political turmoil when opposition figure Juan Guido unilaterally declared himself "interim president" of the country in January last year. He was immediately recognized by the Trump administration and later staged a botched coup against the Venezuelan government.
Guido has so far defended illegal US sanctions against his country.