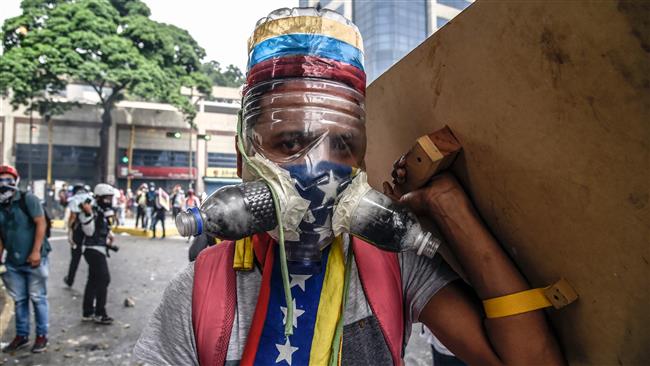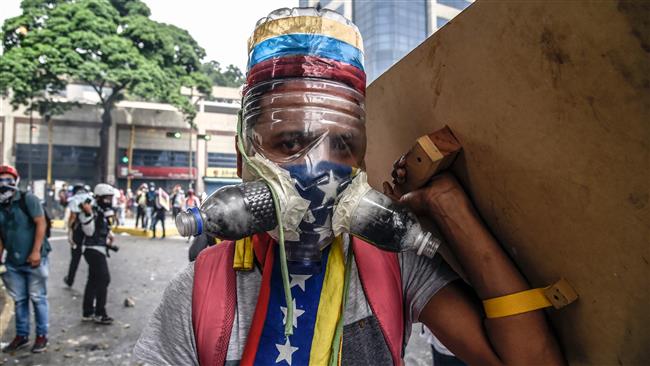 Venezuela's government and some opposition groups have strongly objected to protesters throwing human and animal excrement at police during clashes which have paralyzed the country.
Judicial inspector general Marielys Valdez said on Wednesday that the bottles containing feces thrown at government forces were a "biological weapon," adding that this method of protesting was illegal and highly unhygienic.
"The use of biochemical weapons is fully classified as a crime and incurs strong penalties…, in this case human and animal feces…  can get into the water and cause terrible contamination," she said.
Valdez added that, "It affects not only the person targeted, but over time, it can spread and cause disease."
Anti-government protesters have been throwing excrement at riot police during the latest in weeks of clashes in the capital, Caracas, and elsewhere in the country.
Before the latest clashes, some opposition groups had said the practice would be unsanitary and had to be avoided.
Protesters blame President Nicolas Maduro for an acute economic crisis that has caused shortages of food and medicine. They are demanding early elections, accusing him of repressing dissent.
Maduro, who blames the crisis on what he says is a plot hatched led by Washington, brands the protesters as US pawns. He warned on Thursday that people attacking military bases would be tried in military courts.
"Anyone who is captured attacking military bases will go where they have to go: to justice," Maduro said, while again denouncing the opposition demonstrations.
Human rights groups claim scores of people have been arrested in protests in recent days and have been brought before military courts.
The state prosecution service said on Wednesday that under the constitution, civilians detained in protests should be tried by civil and not military courts.
Clashes between demonstrators and security forces have left 38 people dead since April 1, prosecutors say.