Latin America
World News
Venezuelans start voting for parliamentary elections despite opposition boycott
People in Venezuela are voting in parliamentary elections amid calls for a boycott by the country's US-led opposition figure and self-proclaimed interim president Juan Guaido.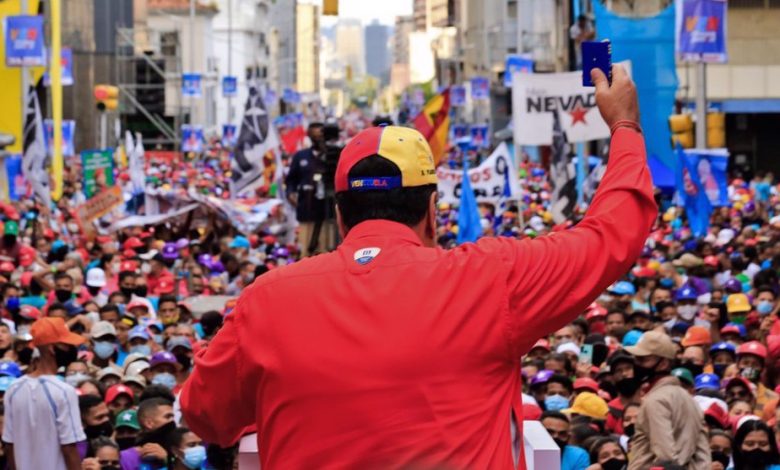 Polling stations opened at 6.30 am local time (1030 GMT) on Sunday to elect members of the 227-seat National Assembly, in a vote supported by Venezuelan President Nicolas Maduro and denounced by Guaido as "fraudulent".
"The time has come to vote for peace, for the country, for the future", Maduro said in a message on his Telegram channel, shortly before voting began.
Guaido has boycotted the polls, saying "free and fair" conditions for holding elections do not exist. He has labeled the elections "a fraud".
About 14,000 candidates from more than 100 parties and associations are contesting in Sunday's polls.
Opposition dissidents who criticize Guaido for calling the boycott will take part in the election.
Maduro and his allies are poised to win back control of the National Assembly in elections — the only government branch controlled by the opposition in the deeply divided Latin American country.
The anticipated defeat of the opposition candidates in Sunday's elections will seriously undermine the US-sponsored forces in the oil-rich country even though Guaido is currently recognized as Venezuela's "interim president" by nearly 50 countries allied with Washington.
Venezuela's electoral authority, appointed by the country's Supreme Court, said more than 20 million people are eligible to vote in the elections.
Sunday's vote comes five years after the opposition won control of the National Assembly. Foreign delegations have arrived earlier in Venezuela to monitor the election process.
Meanwhile, Guaido and his associates have planned a week-long referendum from Monday in a bid to win public support to extend the mandate of the current opposition-led National Assembly.
Guaido's critics regard his referendum ploy as a desperate gamble.
Sunday's elections come at a time when Venezuela is in a deep US-orchestrated economic and political crisis.
An election victory will provide Maduro with significant validation in the eyes of his foreign allies, helping his administration to further circumvent brutal US and EU sanctions against Venezuela.
As a result of foreign sanctions, Venezuelans are living in dire conditions, struggling with basic needs such as electricity, security and food.
Maduro has repeatedly noted that the US, with the opposition's help, has been trying to oust him from power through economic sanctions and other means.
Maduro has previously said the Venezuelan nation will show their resistance against the harsh sanctions by huge turnout in the Sunday vote.
The Venezuelan president has also said he will step down from his post if his party loses to the opposition in Sunday's elections.
Guaido's self-declared mandate is due to expire on January 5 when the new assembly is due to take power. His recognition as "interim president" was based on his position as head of the National Assembly.
He and his loyalists have dismissed the Sunday vote as illegitimate and argue that whoever succeeds him will lack legitimacy.
Guaido's decision to boycott the election, however, has raised questions about his strategies and left the opposition divided.
Analysts say that the Guaido-led opposition lacks direction and has stumbled by putting too much emphasis on its pursuit of international support.