Syria
Victorious Syrian Army Controls Der Salman in East Ghota Amid Clashes in Homs, Daraa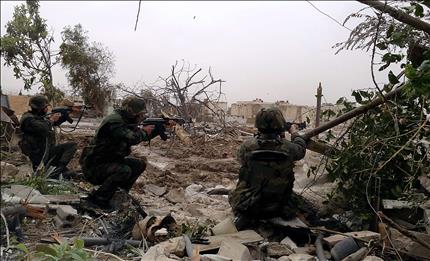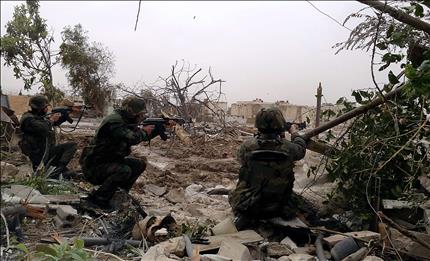 Syrian Arab ArmyThe Syrian news agency SANA confirmed that units of the national army restored security and stability to the Der Salman town of East Ghota in Rural Damascus on Friday, after the army stormed the town this morning.
A military source said an army unit active in Homs arrested "members of an armed terrorist group coming from Iraq," as the army continued "chasing terrorists in the neighborhoods of Al-Qarabis and Qosoor, as well as in the towns of Khalidiya and al-Dar al-Kabira, leaving a number of them killed or injured.
The source told SANA that terrorists have targeted with rocket-propelled grenades big Homs hospital in the al-Wae'r neighborhood, which led to serious material damage to the place.
The army also targeted " gatherings and strongholds of terrorists in al-Sa'n and Hosh al-Shabbout in Homs countryside and Rastan, killing many of them and destroying a number of their vehicles including.
An official source told SANA correspondent that "other army units targeted a number of terrorists' communities east of engineers' building and near the Zawiya Mosque in Bab Hood neighborhood , in the vicinity of the Al-Qarabis National Hospital, killing a number of them and destroying their crime tools.
The source pointed out that the Engineering troops dismantled two explosive devices weighing 30 kg each, primed to explode remotely and planted in bags inside the cemetery of Al-Meshrefa village east of Homs.
In Daraa city and its countryside, army units destroyed arms and ammunition depots and hideouts of militants.
A military source told SANA that "army units have left large numbers of dead and wounded terrorists in the city, and destroyed their arms and ammunition depots, in addition to a number of their communities and their hideouts."
The Syrian army launched a wide-scale military operation to clear the country of al-Qaeda affiliated al-Nusra Front terrorist militiamen active in the state.
Syria was hit by a violent unrest since mid-March 2011, where the Syrian government accuses foreign actors of orchestrating the conflict by supporting the militant opposition groups with arms and money.