Syria
Victorious Syrian Army eliminates terrorists in Homs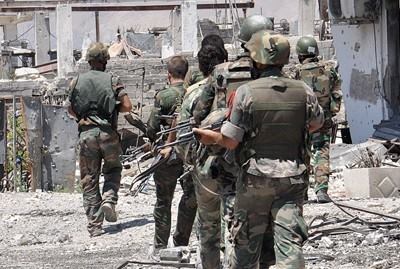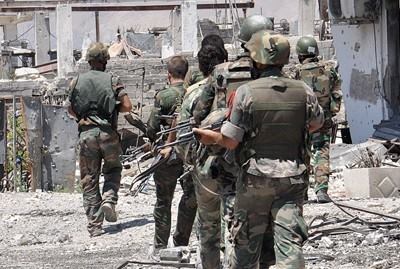 Units of the army eliminated armed terrorist groups and destroyed a number of dens and an anti-aircraft machinegun in Homs neighborhoods and towns.
A military source told SANA reporter that members of an armed terrorist group were killed or injured in al-Warsha and al-Hamidieh neighborhoods and al-Dar al-Kabira village.
An official source said that the competent authorities eliminated 20 terrorists in al-Shomaria Mountains in Homs countryside and destroyed an anti-aircraft machinegun and various ammunitions.
Units of the armed forces confronted armed terrorist groups' attack against Aleppo central prison and the citizens in some safe neighborhoods in the city of Aleppo and destroyed rocket launcher pads and mortars in Aleppo countryside.
A military source told SANA reporter that terrorists' gatherings were destroyed in the villages of Tal Hasel, Tal Irn and South-East of al-Nirab, and their vehicles, weapons and ammunition were also destroyed.
The source added that an army unit clashed with armed terrorist groups of the so-called "The Islamic State in Iraq and Sham" affiliated to al-Qaeda which attacked Aleppo central prison, killing and injuring their members.
The source said that rockets' launcher pads, mortars, heavy machineguns were also destroyed in addition to terrorists' hideouts in the villages of Tal Dana, al-Jadideh and Kwairis in Aleppo countryside. A big number of terrorists were also killed.
In Aleppo city, Units of the armed forces foiled terrorists' attempt to infiltrate to al-Sayyed Ali neighborhood and the cemetery near Hanano barracks, killing all of them and destroying their weapons.