Syria
Victorious Syrian forces kill scores of terrorists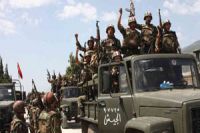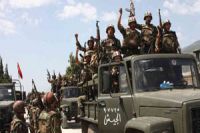 The Syrian Army says it has killed scores of foreign-backed terrorists, including a large number of foreign nationals, and seized their weapons during operations across the country.
According to the official SANA news agency, the army units "killed and injured many terrorists in a number of towns and villages" in the northwestern province of Idlib on Sunday.
The army also killed and injured several militants, including foreigners, in southwestern province of Daraa, and destroyed their weapons.
Several Jordanian, Saudi Arabian, Kuwaiti, Tunisian, and Libyan militants were also killed in Daraa.
The Syrian armed forces killed scores of insurgents, including foreigners, in and around Damascus. In addition, the army captured many machine guns, sniper rifles, rocket launchers, and hand-made rockets.
The army also killed and wounded many members of armed groups in the provinces of Aleppo, Homs and Deir ez-Zor.