Syria
Victrious Syrian forces hoist the country's flag over Homs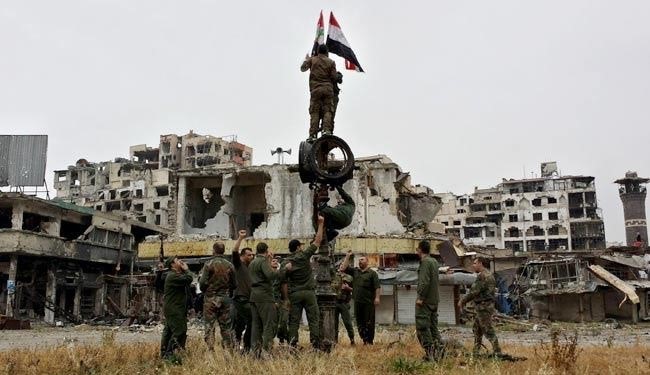 Syrian military forces have hoisted the nation's flag in old section of the city of Homs following the ouster of foreign-backed insurgents from the strategic area.
The Thursday development came a day after the armed insurgents began their withdrawal from the old Homs city and army units entered the war-ravaged city.
In line with a UN-brokered agreement between the Syrian government and the foreign-sponsored insurgents, 80 percent of the armed elements in the city were transferred out of Homs city limits by buses.
The operation was overseen by representatives of the United Nations and the insurgent elements were only permitted to carry away their own personal weapons.
According to the accord, the armed elements also had to free the Syrian citizens and army officers that they had earlier abducted.
Moreover, a safe pathway was being opened in order to send humanitarian aid to resident of the two town of Nubbul and al-Zahraa who had been besieged by the armed insurgents for over two years.
The deal was reached between the insurgents and the Syrian government on May 4.
More than 2,200 people, mostly armed militants, are supposed to evacuate the flashpoint city of Homs and move to militant-held areas in the north of Homs Province, located in the central western part of Syria. It would bring almost all the major districts of the city under the control of government forces.
The evacuation is considered to be another victory for the Syrian army.