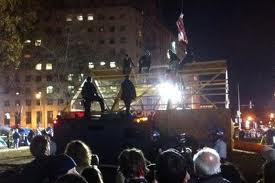 An empty lot now sits where Occupy protesters resurrected a large pre-fab structure that was eventually removed by police. Griffin Cordova was there.
By the time the structure was taken down 31 people were arrested–the charges were split between crossing police lines and disobeying a lawful order after police ordered them to leave the structure. The last protester removed from the building was charged with resisting arrest. Most
of the charges carry a one hundred dollar fine. But some say the group may fight the charges collectively in court.
Protesters built the small barn-like structure as a meeting place for general assemblies and as a symbol for the lack of housing for DC's homeless population.
It's hard to imagine that there was a structure standing here. Occupy protesters will need to find a new way to brave the cold over the winter months.
Some agree it will be challenging. They've already felt the chill of winds through tents and thin wooden structures covered in tarp.
Cordova is confident that the weather won't hurt the movement.
Occupiers say they plan to keep the peace with police but they can't promise there won't be future confrontations.