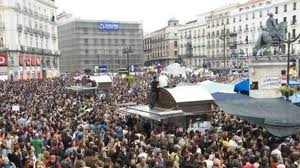 Spain's two biggest unions led Sunday's protest march through central Madrid, with left-leaning political parties and social groups also taking part. Similar protests were held in cities across Spain against the conservative government's economic policy, in particular its new labor reform, which makes hiring and firing easier.
The unions say this action was their only alternative after the government pushed ahead with the labor reform without negotiating its terms.
Apart from this protest, March 11 is an important day for many Spaniards for a different reason: it's the anniversary of the 2004 terrorist attack here in Madrid when nearly 200 people were killed. Every year the anniversary is marked with a tribute to the victims
But the decision to stage the protest on this year's anniversary sparked controversy, with the government accusing unions of exploiting the sensitive date. While the main tribute to the victims of the train bombings went ahead in Madrid, other events were delayed until Monday.
The Popular Party government has also criticized the protest itself. It says Spaniards should unite to get the economy on track again, instead of taking to the streets and that the labor reform is necessary to tackle Spain's jobless rate of 23 percent. But those protesting say the new law is counterproductive.
Sunday's demonstration is the latest in a series of protests against the economic policy of Prime Minister Mariano Rajoy. And more are expected, with union leaders organizing a general strike against the labor reform for March 29.