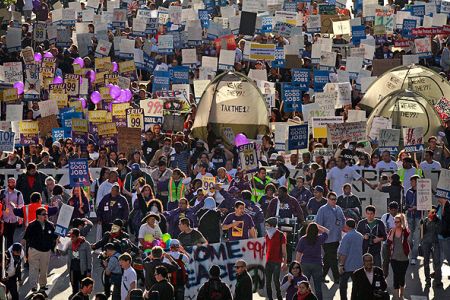 Hundreds of protesters are making the financial district of downtown Los Angeles the target of their frustration.
The demonstrators started early in the morning and plan to last throughout the day in connection with the National Day of Action. Protesters say Wall Street is leaving Los Angeles communities and the rest of the 99 percent behind.
They are calling on Congress to hold Wall Street accountable and to make wealthy corporations pay their fair share so communities can have jobs, not budget cuts. Jacob Hay is with Good Jobs LA, one of the groups who organized the event.
Hay says Los Angeles remains one of the last Occupy encampments to avoid getting shut down or raided by police. He says this has allowed the movement in LA and the momentum to grow.
Demonstrators hit the streets of downtown Los Angeles, chanting and carrying picket signs as they marched through the financial district.
Protesters say they are angered by the economic crisis and the massive unemployment that is hitting states like California.Police are being dispatched throughout the city to deal with the several marches taking place.
Officers are also trying to control protests outside major banks like Bank of America. Protesters say they blame the banks for America's economic mess.
Protesters attached banners to overpasses and set up tents in a busy intersection, snarling morning rush-hour traffic in the area.
Police in riot gear moved in to arrest more than two dozen people for unlawful assembly.The protest comes amid a week of uncertainty about the future of the Occupy L.A. encampment at City Hall.
L.A. officials have said the Occupy camp will have to end eventually, although no specific plans have been announced.