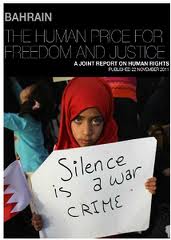 The Bassiouni report has confirmed that the Bahraini government used excessive force and even torture against protestors during an uprising earlier this year, which left around 40 people dead.
The protestors were demanding greater rights for Bahrainis which they say is being oppressed by the US and Saudi backed ruling al Khalifa family.
But human rights groups meeting in London said that the Bassiouni report would have been a waste of time unless real reforms are enacted in the future.
Launching a new report into Bahrain's future, three Bahraini human rights groups made the following recommendations:
All political prisoners should be immediately released.
Violence against protestors must be stopped.
All prisoners must be given fair trials.
And Saudi occupation forces must leave the country.
The human rights groups also said that Bahrain's main allies – the US and the UK – must condemn the oppression there and stop all arms deal to the Persian Gulf nation.
Responding to the Bassiouni report earlier this week, Bahrain's king said the country had turned a new leaf, had learned lessons and that reforms would be put in place.
King Hamad said that his forces were trying to restore order and security to a nation, although victims would be compensated and abusers punished.
The Bahraini opposition in exile here in London believe that the Bahraini government is only interested in plastering over the cracks in its international reputation and not in addressing the systemic problems which led to 2011 uprising. They warn that if genuine change doesn't happen continued flare-ups and sectarian violence will be the likely scenario.