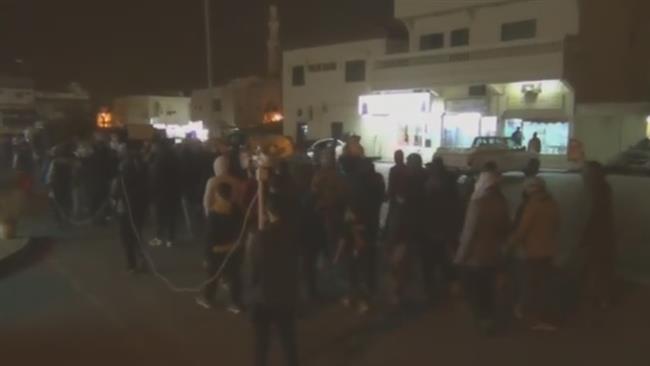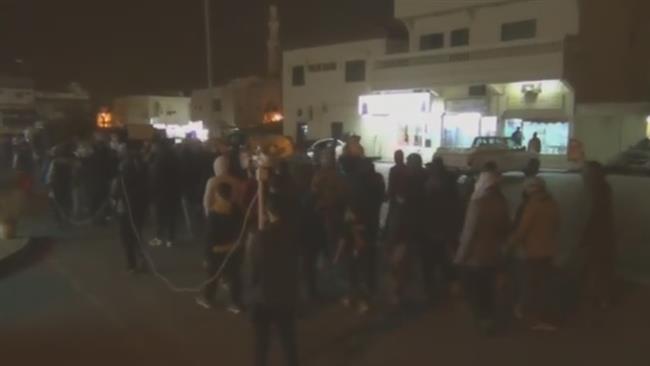 Bahraini protesters have taken to the streets again to condemn violent regime crackdown on political dissent ahead of the sixth anniversary of the country's popular revolution.
Protesters staged a rally on Sitra Island south of the capital Manama on Wednesday evening, holding pictures of distinguished Shia cleric Sheikh Isa Qassim who has been stripped of his nationality by the ruling regime.
They chanted slogans, and pledged to resist the heavy-handed clampdown as they reiterated their support for the 79-year-old clergyman.
Troops moved in, firing tear gas and rubber bullets to disperse the crowd but there were no immediate reports of casualties or detentions.
The Manama regime has charged Sheikh Qassim with illegally collecting funds, money laundering and helping terrorism, allegations which the cleric has strongly rejected.
Bahraini authorities stripped the cleric, who is the spiritual leader of the dissolved main opposition group al-Wefaq National Islamic Society, of his nationality on June 20, 2016.
They later dissolved the Islamic Enlightenment Institution, founded by Sheikh Qassim, in addition to the opposition al-Risala Islamic Association.
Also on Wednesday evening, protesters burnt tires and hurled petrol bombs at an armored personnel carrier during a demonstration in the village of Eker. Regime forces used stun grenades as well as tear gas to break up the protest.
Thousands of anti-regime protesters have held numerous demonstrations in Bahrain on an almost daily basis ever since a popular uprising began in the kingdom in mid-February 2011.
They are demanding that the Al Khalifah dynasty relinquish power and let a just system representing all Bahrainis be established.
Manama has gone to great lengths to clamp down on any sign of dissent. On March 14, 2011, troops from Saudi Arabia and the United Arab Emirates were deployed to assist Bahrain in its crackdown.
Scores of people have lost their lives and hundreds of others sustained injuries or got arrested as a result of the Al Khalifah regime's crackdown.