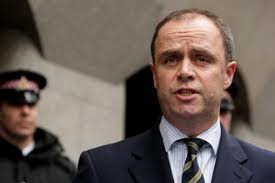 In July John Yates was forced to resign over his handling of the phone-hacking scandal and his ties with Neil Wallis, a former senior executive at the News of the World who later worked for the police.
Last week, the Independent Police Complains Commission cleared Yates of any misconduct. And this week he announced a new job.
But the new role is not in the UK. It's in Bahrain. Yates has been asked to overhaul the monarchy's controversial police service with John Timoney, a former head of Miami police. He says he will draw on his experience in the Met here in London to tackle the role.
The appointment is the latest move following the damning Bassiouni report that laid out the extent of suppression over the uprising in Bahrain.
Unlawful detention, night raids, sexual abuse, beatings and electric shocks were all a part of widespread and "systematic torture."
King Hamad bin Isa al-Khalifa, Bahrain's monarch has apologised and promised to turn a new page. Yates' hiring is a key part of the plan.
King Hamad has promised to reform institutions to international standards and prosecute corrupt officials. He removed the head of the National Security Agency, appointed a committee to implement the report and set up a standing human rights body.
Saudi and UAE troops remain in Bahrain. Thousands are still in jail, some on death row. And reports suggest violence against protestors continue. For Bahraini's who have faced decades of brutal dictatorship, any change by the ruling monarchy is taken with caution. They say only real reform will do.