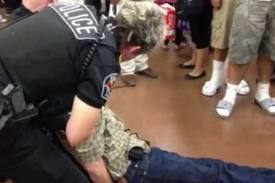 Recent footage released on the Internet shows US police officers violently arresting a man shopping with his grandson at a Wal-Mart store in the US state of Arizona on Black Friday.
Jerald Newman, 54, was attacked and knocked to the floor face-first by police officers who suspected him of shoplifting during the day-after Thanksgiving sales, Russia Today reported.
According to Newman, he attempted to lift his grandson on to his shoulders in order to avoid the violent mob of shoppers. He tried freeing his hand by placing a video game into his waistband, when police officers threw him to the ground.
The footage shows Newman being arrested on the ground, while a pool of blood begins to form under his face.
This comes after the violent arrest of several anti-Wall Street protesters and activists occupying Wal-Mart, earlier on Friday.
Demonstrators had planned to occupy various retailers around the country on Black Friday in protest against profit-making banks and corporations on the traditional beginning of the Yule purchasing frenzy.
Wal-Mart, the world's largest corporation, reported profits of over USD 14 billion last year, while reducing company contributions to employee health savings accounts by 50 percent, and increasing healthcare premiums from 17 percent to more than 60 percent.
The supergiant store employs more than 2.1 million people; the average Wal-Mart worker makes USD 8.81 per hour, while the CEO makes USD 8990.00 per hour.
The Walton family –the largest Wal-Mart shareholders who are descendants of its founder — is the wealthiest family in the US with an estimated net worth of USD 92 billion – greater than 40 percent of the least wealthy Americans combined.