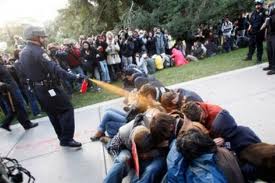 Students at the University of California Los Angeles gathered to protest the use of pepper spray on UC Davis students by campus police.
The police sprayed a group of students who were sitting down in a peaceful protest as part of the Occupy Wall Street movement.
Eleven students were treated for the effects of pepper spray, including two who were treated at a hospital.
The controversial use of the pepper spray has drawn outrage and calls for the Chancellor's resignation.
The university has responded by placing two campus officers and the police chief on paid administrative leave.
This as the university promises to conduct a review of police procedures at all 10 UC campuses.
Students at UCLA are responding by holding a march and rally in support of the Davis students.
They say campus police clearly went too far and the university needs to be held accountable.
Interactions between police and Occupy protesters at UCLA have so far been peaceful.
Police did arrest 14 Occupy UCLA protesters who had set up tents at a campus plaza.
The protesters refused to leave so they were placed under arrest and released 6 hours later.
University officials say the protesters were violating campus policies on temporary structures.
The Occupy related campus protests come as students are fighting a steady stream of tuition increases.
Tuition as state universities will already increase by 9 percent next year.
And UC leaders will be meeting at the end of the month to discuss the possibility of another increase.
The pepper-spraying at UC Davis followed similar police action at UC Berkeley and outside the California State University office in Long Beach.
The incidents are being widely criticized by students and faculty members.
They say a college campus is a place where free speech should be encouraged.