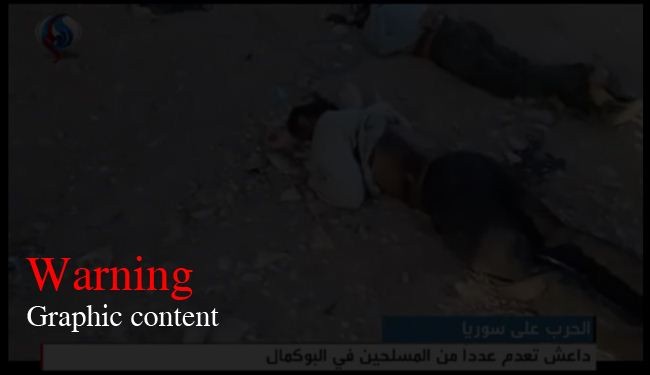 For YouTube Link:
http://www.youtube.com/watch?v=2ILTCKxO0DM&feature=youtu.be
Escalating infighting between opponents of the Syrian government has left some 80 militants from different militant groups dead near Syria-Iraq border.
Video, uploaded by Syria militants on Youtube shows dead bodies left after fierce clashes between the radical Islamic State of Iraq and Levant and the so-called Free Syrian army and al-Qaeda's al-Nusra Front.
The fighting erupted in the town of Al-Bu Kamal on the side of Euphrates River near the border with Iraq.
The so-called Syrian Observatory for Human Rigths which is a pro-opposition group, had put the death toll on 51, but reports from websites affiliated to the militants say more than 80 have already died in Friday fighting.
ISIL militants have been trying to occupy the whole town and set up a base near Iraq, where they raised from as the terrorist group of Islamic State of Iraq.
The group later expanded, using foreign support to the charged-insurgency in Syria, and joined thousands of militant groups fighting to topple the Syrian government.
ISIL has already occupied Raqqa in north central Syria, and reserves a permanent base in the town, leaving people struggling to survive under their extremist ruling.