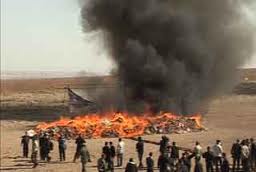 The police chiefs and high-ranking delegations of the member states of the Economic Cooperation Organization are in Tehran. The goal: to establish Ecopol and strengthen police and security cooperation in the fight against transnational organized crime and drug trafficking.
The delegates also told Press TV that they agreed to establish Ecopol because the ECO faces certain challenges, such as the absence of appropriate infrastructure and institutions to provide sustainable security for the members.
The role of Ecopol is set to be defined by the general provisions of its constitution, focusing primarily on terrorism, organized crime, illicit drug production and trafficking, weapons smuggling, human trafficking, and computer crime. ECO groups Iran, Pakistan, Afghanistan, Azerbaijan, Kazakhstan, Kyrgyzstan, Tajikistan, Turkmenistan, Uzbekistan and Turkey.