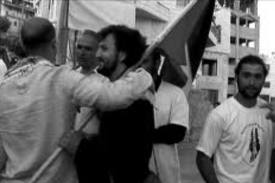 It is a small price that has been paid by Nasser al-Shaaer, who spent six months in the zionist israeli jail for helping the Palestinian youth at the al-Naksa event and for not being able to control his feeling after watching young Palestinians getting slaughtered for trying to enter what is rightfully their land.
Once more as it is customary for the occupied Golan people they received the freed prisoner with a massive celebration in his honor at his home near the ceasefire line in the occupied Majdal shames, affirming their continued resistance to the occupation and their loyalty to Syria under the leadership of president Bashar al-Assad.
Furthermore to the arrests of more than 40 people from the occupied Golan Heights the zionist israeli occupation authorities took further steps as a collective punishment to the Golan people for assisting and refusing to stand still watching the massacre which happened in front of them along the ceasefire line.
The Golan's prisoners is an ongoing case of suffering….and a clear message that its last words won't be written except with the liberation of the occupied Golan and the freedom of all political prisoners.