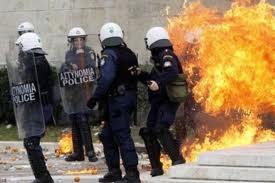 The students are starting to march outside the Athens University. The atmosphere is intense, not only because everyone remembers the tragic events three years ago, but also because austerity-stricken students have endured repeated education budget spending cuts and an overall lack of prospect in the jobs market.
When tried to get some students to talk to us, they said we better put the camera down, or else. The distrust against media, Greek or foreign, was apparent.
Relentless austerity brings frustration among Greece's young students, who did not even receive the required curriculum books at the beginning of the school year three months ago, because the state budget was not enough to have them printed.
The Greek Parliament's forecourt becomes an arena of tear gas, flying pieces of broken marble and unstoppable verbal debasing of all values pertinent to the Greek political system of austerity loans and increasing taxation. Some students were later arrested by riot police, seen here being taken away.
Twenty-six days after Loukas Papademos was declared Prime Minister of Greece by a conglomerate of right-wing conservative and decadent socialist MPS of the Papandreou administration, this is the most animated collective reaction so far this year.
This is pre-electoral Greece and the frustration of youths is rather different from that of state workers and civil servants. With unemployment set to rise well above eighteen percent as of next months, it remains to be seen how Papa demos and the new coalition government will deal with the deepening Greek recession.