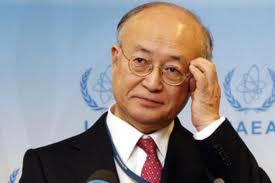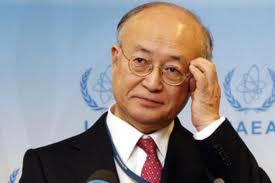 The Director General of the International Atomic Energy Agency faced tough questions during a media briefing on the Nuclear Body's report on activities in Iran.
Taken the question of a report from the UK's Guardian Newspaper that says Wiki leaks documents show a 'cozy relationship' between Mr. Amano and the US… prior to laying the report before the Board of Governors…
As for questions about forged documents possibly finding their way into the agency's evidence bin? Mr. Amano took the hard-line position that Iran was wrong…. He dismissed the possibility of forgeries…. even in light of the agency itself not being in possession of some of the original documents…. His subsequent answer to this being pointed out…. appeared to contradict his previous position…
Mr. Amano says he stands by the work of IAEA staff and has faith in the number of cross checks done to verify information among sources.
But the media reported on a private briefing in the US which named a Ukrainian man as the 'foreign expert' listed in the IAEA report, who, it is alleged, worked to help construct a detonation system in Iran that could be used for a nuclear weapon.
It was later discovered that the man was not a nuclear scientist at all… So with this being such a possibly glaring error in evidence, Mr. Amano was asked once more about the credibility of the information in the report.
Six major countries – United States, Russia, China, France, Britain and Germany have hammered out a joint resolution on Iran to be voted on, on Friday….
Last week's which presented the case that Iran has been conducting research and experiments geared to developing a nuclear weapons capability, has raised tensions in the Middle East with Western nations calling for harsher sanctions against the Islamic Republic. But the director general says there is only one solution….
One of the most pertinent questions that has been raised since the entire affair began is 'what is the way forward between Iran and the IAEA. Well the answer has finally come… The Director General of the IAEA says meaningful dialogue is the only way forward and he hopes that talks begin very soon.