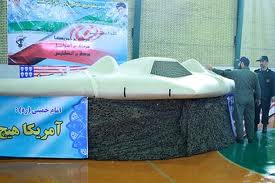 The last thirty days at the UN have been eventful for the Iranian delegation.
It has survived what Russian ambassador called "a PR stunt" in the form of an IAEA report accusing Iran of building an atomic bomb and also resolutions from General Assembly committees that Mohammad Javad Larijani, head of Iran's High Council for Human Rights called "Political Theater."
So Iranian ambassador to UN, Mohammad Khazaei says when American spy drones turn up in Iranian airspace, it's sore point.
On Thursday afternoon, Khazaei sent a letter to UN leadership calling for the UN to implement "clear and effective measures to be taken to put an end to these dangerous and unlawful acts in line with the United Nations' responsibilities."
Though US officials claim the drone had been in Afghan airspace, the Iranian letter states that it was "250 kilometers deep into Iranian territory" when it was brought down by "prompt and forceful action by the military."
Though many may be surprised, Khazaei says that the American spy drone program is a frequent visitor to Iranian airspace.
Pakistani civilians are often killed by erroneous American drone strikes and UN officials have called Israel's near-daily drone flights over Lebanon a violation of Lebanon's sovereignty.
The BRIC countries, Brazil, Russia, India and China issued a statement through Russian ambassador Vitaly Churkin on Wednesday simply calling for negotiations, no sanctions on Syria, no sanctions or military action on Iran.
So with that note and others there does seem to be a swell of support for Iran in the UN General Assembly, especially in the wake of the capture of that American Spy Drone.
As for Iran's response to that, diplomatically, the Iranians say they're exploring all options.
Video of the drone shows it to be relatively undamaged, and not much is known about how it was captured. The drone is unmanned and one of America's most advanced spy technologies. No one was reported hurt in its seizure.