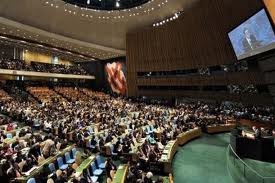 The UN Third Committee on Social — Humanitarian — and Cultural issues met in New York on Monday to vote on a draft resolution condemning so-called human rights violations in the Islamic Republic of Iran.
Much of the draft was based on a report by Ahmed Shaheed — the Special Rapporteur on the Human Rights situation in Iran — a man who according to authorities didn't even set foot in Iran while preparing his report.
Dr. Mohammad Javad Larijani — The Secretary General of Iran's High Council for Human Rights — condemned the draft resolution and the following vote in the strongest terms he could muster.
Larijani went on to point out that the draft resolution contained more than 150 allegations against Iran — including accusations of public executions — persecution of religious minorities — and targeting of human rights defenders.
Larijani added that he should not be surprised.
The key sponsors of the resolution include the United States — the United Kingdom — France — Canada and Germany.
After Nicaragua — Cuba — and other allies spoke out in favor of Iran's record — and against the draft resolution — the vote was taken — and the resolution passed.
How the resolution passed — however — is revealing.
Combine the votes against the resolution with the nearly sixty countries abstaining — and it outnumbers those who voted for it.
We spoke with Bashar Ja'afari — the Syrian ambassador to the UN.
He told us he feels that the abstentions are a refusal by member states to take part in a politicization of human rights issues in forums outside of where they are supposed to be discussed — which is the Council on Human Rights in Geneva.
The Third Committee resolution comes on the heels of a General Assembly resolution last week calling for full Iranian cooperation in the investigation of an alleged assassination plot against a Saudi diplomat.
No suspects of any nationality have been tried or convicted in that case