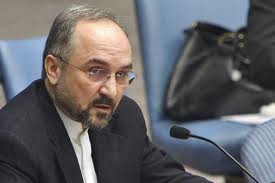 Iran's UN envoy, Mohammad Khazaei, says Tehran poses no threat to any country as it only aims to promote solidarity and stability in the Middle East, Press TV reports.
Reacting to a US-sponsored draft resolution implicating Iran in the alleged plot to assassinate Saudi Arabia's ambassador to US, Khazaei stressed during a Security Council session on Saturday that Islamic Republic has already rejected the draft as baseless.
"Our fundamental problem with the draft resolution lies in the very fact that this draft is based on nothing but an unsubstantiated claim of one member state with a long history of animosity against my country," he added.
The resolution entitled "Terrorist Attacks on Internationally Protected Persons" deplored the alleged plot to kill Saudi ambassador to US, Adel al-Jubeir, and called on Iran to cooperate with the countries working to capture or prosecute anyone involved.
Khazaei considered the draft unfounded as no Iranians have been convicted or even tried in the case, and proposed amendments to the draft to soften its tone.
In the voting which followed, the resolution passed with 106 positive against 9 negative votes while 40 countries abstained to vote.
On October 11, the US Justice Department accused Iran of plotting to assassinate the Saudi Arabian Ambassador to Washington with help from a suspected member of a Mexican drug cartel.
Tehran says the media hype created by Washington is an attempt to deflect international attention from the intensifying anti-corruption and anti-corporatism protests in the country.
The anti-corporatism protests against corporate and banking corruption, poverty and social inequity erupted in New York in mid-September and have since spread to more than 100 cities across the US.