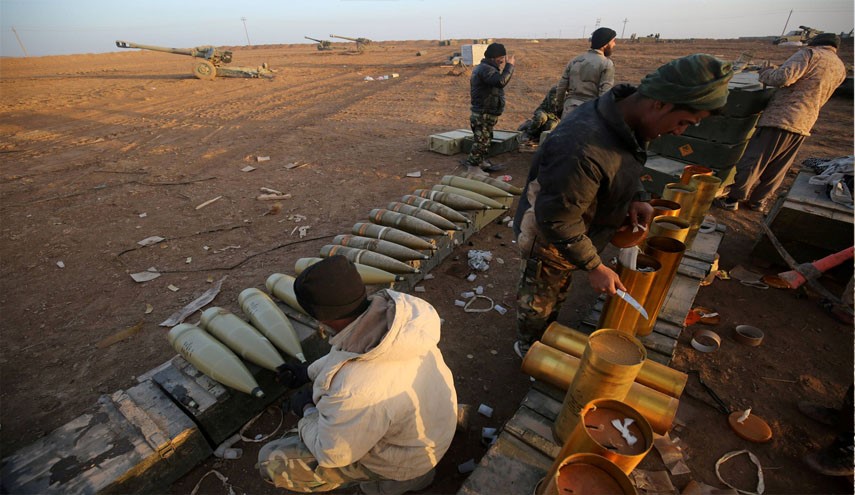 Forces of the Iraqi Federal Police shelled on Tuesday (December 6) a village south of the ISIS-held city of Mosul as Iraqi army units surged towards the centre of Mosul in an attack from the city's southeastern edges that could give fresh impetus to the seven-week-old battle for ISIS' Iraqi stronghold.
Artillery pounded area south of Athba village ahead of a push towards the south of the city.
"Operations are going according to the plan, God willing, we will liberate Mosul in the coming few days.
We tell our people to be patience and we promise them to liberate Mosul in the coming few days," said Federal police member Zain al-Abideen al-Khazali.
Mosul is by far the largest city under ISIS (ISIL, IS, Daesh) control and defeat there would roll back the self-styled caliphate it declared in 2014 after seizing large parts of Iraq and Syria.
Some 100,000 Iraqi soldiers, security forces, Kurdish Peshmerga fighters and mainly Shi'ite paramilitary forces, including the Popular Mobilisation, are participating in the Mosul campaign that began on Oct. 17, with air and ground support from a US-led coalition.
"We will liberate Mosul, God willing and we will protect our borders with Syria and other neighbouring countries including Turkey," said Major General Haider Yousif, Commander of the Commandoes Forces.
A colonel in the armoured division said Tuesday's assault, launched at 6 a.m., aimed to ultimately reach Mosul's Fourth Bridge, the southernmost of five bridges spanning the river.
The bridge, like three others, has been hit by U.S.-led air strikes to prevent Islamic State sending reinforcements and suicide car bombs across the city to the eastern front.
The last and oldest bridge, built in the 1930s, was targeted on Monday night, two residents said.
The structure was not destroyed, but the air strikes made two large craters in the approach roads on both sides.
The Sunni Muslim jihadists, who seized Mosul in mid-2014, are believed to be dug in across the city, but a U.S. general in the coalition supporting Iraqi forces told Reuters they appeared to have committed additional defences to the fight in the east.
Iraqi officials have not given any casualty figures for their own forces. Last week the United Nations said nearly 2,000 members of Iraq's security forces had been killed in November – a figure Baghdad says was based on unverified reports – and that more than 900 police and civilians had also been killed.