Iraq
Video- Iraqi government forces fully recapture Mosul's Old City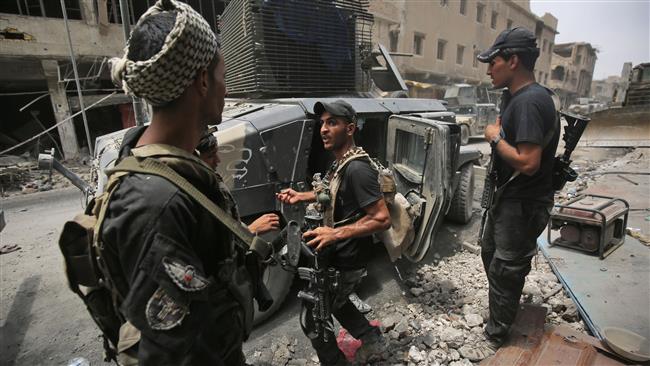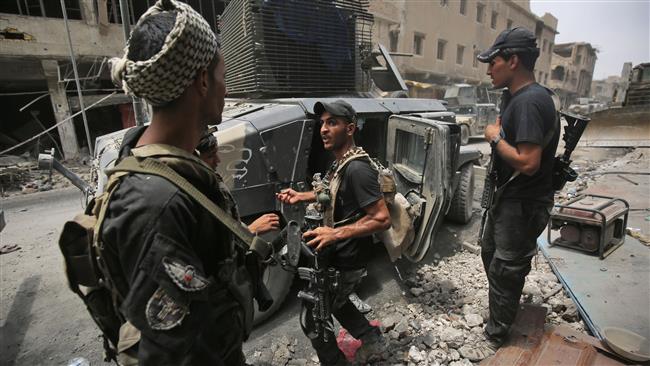 Iraqi government forces have wrested complete control over the Old City of Mosul, which served as the last bastion of Daesh Takfiri terrorists in the Arab country's second largest city.
The spokesman for the Iraqi Joint Operations Command, Brigadier General Yahia Rasoul, announced on Saturday that army troops had regained control over the strategic area, where Daesh leader Ibrahim al-Samarrai aka Abu Bakr al-Baghdadi declared the extremists' self-styled "caliphate" back in July 2014.
The media bureau of the Iraqi Defense Ministry also stated that government forces had killed 35 Daesh members and wounded six others while they were sneaking from the western flank of Mosul into the eastern side.
It noted that Federal Police forces finished their combat missions in the Old City by retaking Nujaifi Street as well as al-Toub and Souk al-Sagha neighborhoods, which had all previously been marked as the last pockets remaining in Daesh's grip.
Iraqi army soldiers and volunteer fighters from the Popular Mobilization Units, commonly known by their Arabic name, Hashd al-Sha'abi, have made sweeping gains against Daesh since launching the Mosul operation on October 17, 2016.
The Iraqi forces took control of eastern Mosul in January after 100 days of fighting, and launched the battle in the west on February 19.
An estimated 862,000 people have been displaced from Mosul ever since the battle to retake the city began nine months ago. A total of 195,000 civilians have also returned, mainly to the liberated areas of eastern Mosul.
Daesh chief judge, 11 terrorists killed in airstrikes west of Mosul
Meanwhile, a local source, speaking on condition of anonymity, told Arabic-language al-Sumaria television network that a dozen Daesh terrorists died in three Iraqi Air Force strikes that targeted their convoy in the city of Tal Afar, located 63 kilometers west of Mosul.
Daesh burns self-proclaimed Diyala governor to death
Separately, the Daesh terror group has reportedly burned its self-proclaimed Diyala governor to death on charges of dereliction of duty.
A local source, requesting anonymity, said the top-ranked extremist was killed in al-Hawijah district, situated 45 kilometers west of the oil-rich northern city of Kirkuk on Friday.