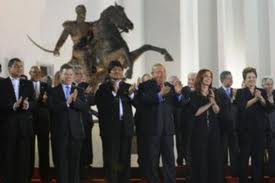 Caracas was coated with the atmosphere of regional unity. For the first time, all Latin American and Caribbean countries have come together under one bloc that promises to shape the future of the continent. The move is of particular interest since the U.S. and Canada were excluded from the new Community of Latin American and Caribbean States, CELAC.
For many of the presidents participating in the summit, Bolivar's dream of a greater fatherland seems to have come true in the form of the CELAC. The CELAC gathers an estimate of 550 million people from the 33 member states that make up Latin America and the Caribbean, a region that holds about 20.5 million square kilometers of forests and jungles, the largest oil reserves of the world and 30% of the sources of freshwater.
The CELAC poses a unique scenario for governments of different ideologies to debate on common issues. Countries that have a good relationship with the U.S., like Colombia and Chile, can now voice their concerns in spite that Venezuelan President Hugo claims the CELAC will play a key role in standing up to the American imperialism influence in the continent.

The CELAC agreed on all documents worked by senior officials and foreign ministers, as the Declaration of Caracas, the Caracas Action Plan 2012, and eighteen reports on issues of political, economic, and social interest, including one opposing the US trade embargo on Cuba. In a previous statement, Chavez also said the CELAC would leave behind the Organization of American States, which according to him was worn-out and controlled by the U.S.
The summit has raised hope for unity and cooperation in the continent in order to shield the region from the international economic meltdown. The 33 member states are set to gather again in Chile next year.