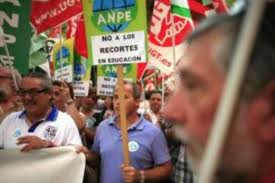 Participation in teachers' strikes in Madrid continues on a downward trend at their ninth day of protests. As usual, they held a rally in front of the regional Ministry of Education in Madrid.
The five unions representing public education called the strike. According to the calculations that unions offered jointly, participation in strikes in high schools was 48%. In primary schools, it dropped to 27% and reached 47% in nursery.
The Education and Employment Ministry downgraded participation to its worst levels up until now. According to its data, it was 8% in Secondary, 2% in Primary and 8.5% in Nursery.
The conflict remains stagnant: teachers keep struggling while the regional Minister of Education from the Popular Party, Lucia Figar, refuses to negotiate the rules adopted for the start of the academic year, which have increased teaching hours from 18 to 20 per week and have cut temporary teachers in public schools.
The Ministry of Education and Employment has not summoned the sectoral board (in which both unions and the regional government are represented) to address this issue.
Apart from this protest, several associations in support of public education carried out a morning rally in front of Madrid's courts to file a communal complaint about the situation experienced by some teachers who attempted to vote in their characteristic green jerseys. According to these associations, some were prevented from voting and were "criminalized" by the Police.
Teachers protests have been the most massive in two decades in Madrid, although support has been fading away with each passing day. The five organizing unions plan to meet to schedule new protests in December and January, when they must decide whether they include more strikes, demonstrations or other actions.
Attrition and the lack of negotiation with the regional government forces teachers to rethink their strategy after a ninth day of strike with the lowest participation figures since the start of the protests in September. The 'green tide' is an already socially recognized movement but it enters now a moment of stagnation with the Christmas break around the corner.