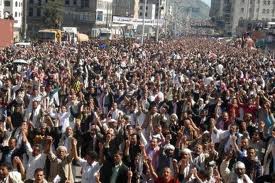 The Historic March of life demonstration which launched earlier this week from the southern city of Taizz to call for the prosecution of Ali Saleh and to reassure the demands of the youth protesters, has finally arrived to Sanaa's liberation square.
After traveling a total distance of 262 km through Yemen's rough terrain and cold weather, protesters were warmly welcomed by hundreds of thousands of supporters who were awaiting their arrival.
The march of life demonstration was originally scheduled to arrive to Sana's liberation square earlier in the day. However as the demonstration entered the capital Sana, they were ambushed by Saleh loyalist, who fired bullets and tear gas, killing and injuring dozens of civilians.
Al Madani hospital was once again the scene of chaos, as bodies of dead and injured were ferried in ambulances and motorbikes. Many of the dead sustained the usual Ak 47 rifle bullet wounds, while most of the injured suffered teargas inhalation.
Revolutionaries who were at the scene say that regime forces opened fire on protesters as soon as they attempted to pass the first checkpoint.
When asked who is to be held responsible for the latest attacks, Lubna al Qadasi blamed the Vice President Mansour Hadi and the Foreign minister Abu Bakr al Qirbi.
In a press conference Ali Abdullah Saleh condemned the March of Life demonstration by stating that it only consist of 250 thousands protester, who were paid each1000 Yemeni Riyal. He also said that many of those who participated in the demonstration are armed thugs who only seek acts of terror. Ali Saleh also said that he plans to travel to the US so that the new government can have a chance to bring back order and stability to the country.
Despite suffering heavy casualties, the march of life protesters say that this is a historic event which will be written down in the history books as a major accomplishment by the Yemeni people, who traveled over 262 km on foot to call for an end to oppression.
They also say they will continue their revolutionary activities until all those responsible for the deaths of peaceful protesters are brought to justice.