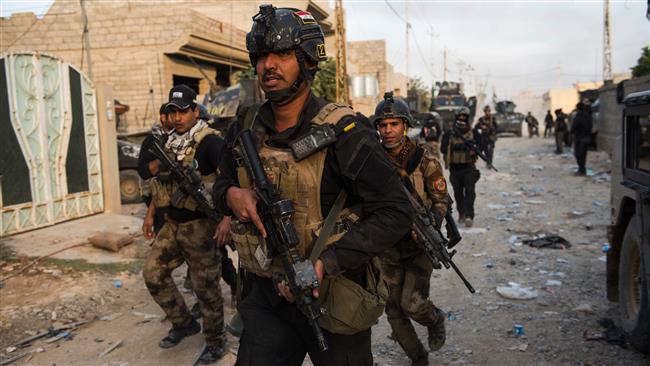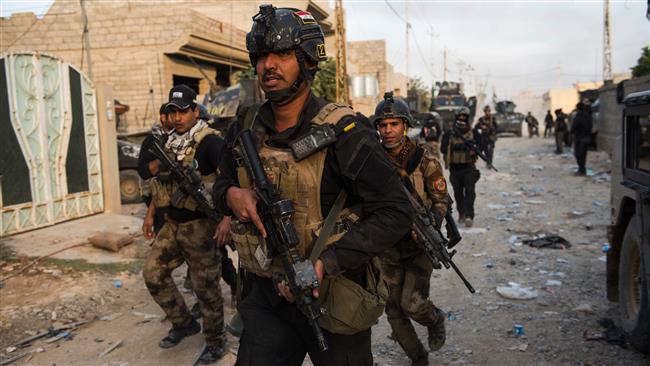 More than a dozen civilians have reportedly lost their lives as Daesh terrorists launched a mortar attack against an eastern neighborhood of Mosul in a desperate attempt to compensate for their huge losses inflicted on them by Iraqi government forces and their allied fighters.
On Wednesday, the extremists lobbed a barrage of mortar rounds at al-Zahra district, which army soldiers liberated last week, leaving 14 civilians dead and seven others injured, local media reported.
The development came shortly after the commander of Iraq's elite counter-terrorism forces, Major General Maan al-Saadi, said his forces had marched into the Aden neighborhood on the eastern flank of Mosul.
Saadi added that counter-terrorism forces are making headway in the area, warning against the presence of Daesh booby traps and hidden explosive devices there.
Daesh attack in Anbar foiled
Elsewhere in the embattled western province of Anbar, Iraqi army soldiers have thwarted a major Daesh car bomb attack against a military base east of the town of Rutbah.
A local police source, requesting anonymity, said Daesh Takfiris were about to attack the base on board ten explosives-laden vehicles on Wednesday morning.
However, the source added, Iraqi government forces targeted and destroyed the cars, killing all those aboard as well as several other Daesh attackers. He noted that the military site is now under the control of Iraqi forces.
Iraqi volunteer forces liberate 5 villages around Mosul
Meanwhile, Iraq's Badr Organization says pro-government fighters from Popular Mobilization Units have successfully recaptured five villages near Mosul as part of a large-scale military operation to drive the Daesh terrorists out of the strategic northern city.
The organization announced in a statement late on Tuesday that its forces had established full control over the villages of Madhhali and Tal Um Mahyour on the western outskirts of Mosul.
According to the statement, volunteer forces have also advanced 10 kilometers in western Mosul.
The developments came on the same day that fighters from Popular Mobilization Units uncovered a 3-kilometer-long tunnel after lying siege to the city of Mahlabiyah.
Additionally, scores of Daesh extremists were killed and injured as Iraqi security forces completely retook Marishah and Um Khiyah villages from the grip of the terror group.
Seven vehicles rigged with explosives and belonging to Daesh terror network were also destroyed. Iraqi soldiers discovered a large cache of weapons following the liberation of Um Khiyah village.
Meanwhile, they recaptured the village of Um Hejjarah following fierce fighting with Daesh militants.
Daesh bomb-making factory found on Mosul edge
Also on Tuesday, Iraqi army units discovered one of the largest Daesh bomb factories on the outskirts of Mosul.
Video footage provided by China Central Television (CCTV) shows different stages in the mass-production of mortars conducted in separate rooms of the complex.
The projectiles were apparently made using scrap metal, and different molds. The discovery of the factory is being deemed as a unique achievement of the Iraqi forces in the offensive.
"We've been in a lot of battles and we saw a lot of bomb factories in Fallujah, but this one is the biggest we have seen so far," Muhsen Uqla, an artillery instructor with the Iraqi army, said.
He added, "You see all those shells. They were supposed to be used against us. Thank God we captured them."
'Daesh executed 25 civilians in 48 hours'
Moreover, the media director for the Iraqi High Commission for Human Rights said on Wednesday that Daesh militants had executed 25 civilians in the course of two days, on charges of spying for Iraqi forces.
Jawad al-Shamari said Daesh was keeping the bodies of the victims at a forensic medicine facility, refusing to hand them over to their relatives on the grounds that they were infidels and should not be buried.
The terrorists, Shamari added, have captured 2,000 citizens, and driven them to the city of Tal Afar to be used as human shields.
Separately, Major General Qasem al-Mohammadi of Anbar Liberation Operation said ten Daesh members were killed when fighter jets from the so-called US-led military coalition struck a militant position in Rawa town of Anbar province.
The military aircraft also pounded a Daesh fuel station in the nearby town of Anah.
Daesh self-proclaimed minister killed
Furthermore, Sukhoi Su-25 fighter jets of the Iraqi Air Force have carried out two airstrikes against a Daesh position in the town of al-Qaim, situated about 500 kilometers west of Baghdad, killing the self-proclaimed agriculture minister of the terror network, identified as Abu Saqr.
Daesh reconnaissance drone shot down west of Karbala
Finally, Iraqi army forces have intercepted and targeted an unmanned aerial vehicle of the Daesh terrorist group in the skies over the holy shrine city of Karbala.
Unnamed military sources said the drone had been collecting information on the positions and movements of government forces before being struck.