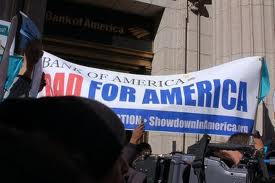 A broad coalition including Occupy Los Angeles protesters, union workers, and Good Jobs LA is fighting to make the banks pay for hurting the U.S. economy.
They're rallying outside LA city hall to demand that city leaders pass a responsible banking ordinance.
The measure would allow the city to only do business with socially responsible banks.
LA deposits billions of dollars each year and protesters want city leaders to avoid the banks that are foreclosing on tens of thousands of people.
The law would make public information such as loan modifications to keep people in their homes and local investments to create jobs.
Supporters say this will allow the public and city leaders to know which banks are helping or hurting Los Angeles communities.
They say this will better guide banking relationships involving taxpayer dollars.
The ordinance would mark a significant victory for the Occupy Los Angeles movement.
Although the measure was introduced before the movement started, protesters say pressure from the occupiers helped move it forward.
Cheryl Aichele is one of the nearly 300 protesters arrested during the police raid of the Occupy LA camp.
Aichele says in her opinion, an ordinance like this one was one of the reasons that she faced police batons, demanding an end to economic injustice.
Protesters say they plan to pressure city leaders until they agree to hold the banks more accountable.
Occupy LA says it will continue to find ways to demonstrate against foreclosures as it reorganizes following the raid.
Organizers say similar responsible banking ordinances are currently under consideration in more than 50 American cities.