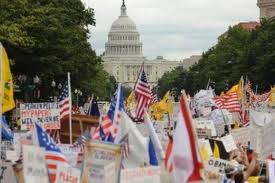 There are massive tents occupying the National Mall. But these are different than what we've seen at Occupy movements.
The structures will be venues for workshops for the 'Our DC' and "Take Back the Capitol movement." This is the media tent–elaborately equipped with WiFi and media hookups.
Protesters from across the United States have gathered on the National Mall for several days of marches and rallies aimed at congressional leaders and lobbyists.
It's raining but these people aren't being slowed down. They are arriving from all over the country. They are already on Capitol Hill speaking to lawmakers urging them to create more jobs for Americans.
This group drove 17 hours from Florida to be here. They plan to appeal to their local representatives in Congress to pass legislation that would allow them to work.
Others have their own ideas of how to decrease the nation's stubborn unemployment rate which has dipped recently but is still close to 9%. Jay Alexander wants to encourage a Civilian Conservation Corps similar to what President Franklin Roosevelt proposed in the 1930s.
Though this movement is separate from 'Occupy' they share several themes identifying with the 99 percent. 'Take Back the Capitol' and 'Our DC' comes on the heels of a massive arrest at Occupy DC over the weekend where 31 people were charged. More protest events are planned throughout the week.