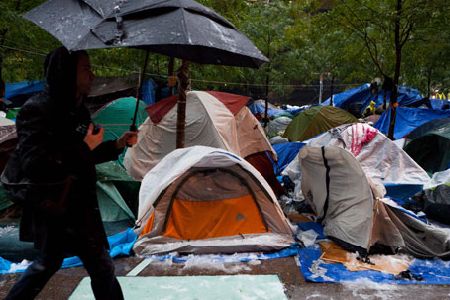 The Occupy Wall Street protests are preparing to deal with the cold weather in the US, particularly in New York that is currently undergoing record-low temperatures, Press TV reports.
As temperature drops in New York, more tents are popping up in Zuccoti Park, a Press TV correspondent reported on Wednesday.
Some of the protesters are homeless people and are therefore providing the Occupy Wall Street demonstrators with lessons in surviving New York City winter.
"Times are tough now," a homeless Occupy Wall Street protester told Press TV. "We're homeless for so long that it really doesn't matter anymore," he added, referring to the freezing cold weather.
The organizers of the Occupy Wall street movement have been preparing for severe weather conditions, collecting hundreds of pieces of tent equipment and warm clothing. Donations also continue to come in as the temperature drops.
The supporters of the American movement are also bringing a steady supply of basic necessities.
After the city officials told the protesters not to put up tents or any structures weeks ago, the Occupy Wall Street protests have entered a new phase in their conflict with the power of the establishment.
The winter months are extremely harsh in some parts of the United States. According to the Occupy Wall Street website, many of the protests are occurring in the Northeast part of the country, which is naturally colder than the southern regions.
The "Occupy Wall Street" movement which began in New York six weeks ago to decry corporate greed has now spread to many cities across the US and around the world.