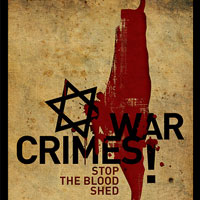 On October 29, 1956 zionist israel, in collusion with France and Britain launched an attack against Egypt. The Suez war, also dubbed the Tripartite aggression main objective was to topple Egypt's President Gamal Abdel Nasser.
On the same day, the israeli army imposed a curfew on several Palestinian villages. The curfew was to take effect at 6 pm local time but was then brought back one hour to 5 pm.
Unaware of the Israeli imposed curfew, Kufor Qasem's farmers' were out in the fields, and as they were returning home to their village, the israeli army opened fire; 49 of them were killed.
Since then, Palestinians has been marking the massacre every year.
The event has even attracted members of the international solidarity movement.
Over 2000 Palestinians marked the occasion. Their mood was defiant.
On the 55th anniversary of the Kufor Qasem massacre Palestinians say they're still the target of a discriminate policy. At the same time they vow to hold on to their land and never to allow Israel to repeat the past.