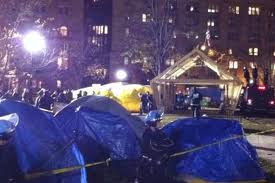 More than 30 arrests. One of the biggest action days for Occupy DC happened right in the park where they've been for weeks.
It all started when demonstrators tried to build a small barn designed to create a meeting place for general assemblies over the chilly upcoming winter months.
The structure is designed by an architect. Demonstrators say it's supposed to hold more than 100 people. But police weren't allowing it and as protesters tried to prevent the structure and themselves from being removed they sparked a standoff with police that lasted well into the night. That's when most of the arrests were made.
Demonstrators say the structure could be taken down in an hour. But it violates park rules. Police called in military vehicles and a cherry picker to take down protesters.
But not everyone agreed with the construction of the barn.
Some say that the money used for materials equaling more than a thousand dollars could have been used for better purposes.
The structure was dismantled. Occupy D.C. issued a statement saying the construction had been planned for a month. There was no mention of removing the rest of the Occupy demonstrators or tents.
Despite the arrests and large crowd, the scene was organized not chaotic.
Park Police have not returned calls and declined interviews.