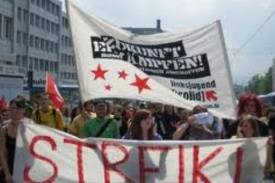 Tens of thousands of students have taken to the streets in more than 40 cities across Germany. In a nationwide 'education strike' protesters called for improvements to the education system, demanding free education for all, better funding and an end to tuition fees.
In Berlin more than 6000 students marched through the inner city. Munich, Cologne, Dortmund and Hanover saw further protests with thousands of demonstrators. The demonstrations were part of a Global
Week of Action for Education and supported by opposition parties and the unions.
Especially at universities the situation is dramatic. Because the number of years in school has been reduced, this year saw a rush on universities, which are short of 50.000 places. According to the unions the education sector would need an additional 30 billion Euros annually to function properly.
And the problems of crowded lecture halls, run down buildings and high tuition fees are increasing as the number of students is on the rise, too. The protests across Germany remained peaceful.
Chancellor Merkel continuously proclaims the 'education republic' with education being the country's most important resource. But the education sector is chronically underfunded and teachers and students
are increasingly angry.