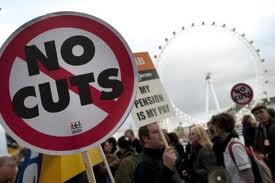 British public sector workers gathered early at picket lines across the country, including here at London's Heathrow airport.
This signaled the start of the largest industrial action seen in this country in decades, with an estimated two million workers going on strike.
This mass walkout is a reaction to the Government's plans to put a three percent tax on all public sector workers' pensions. This includes part time workers on low wages.
Politicians say the tax is necessary to help the recovery of the British economy. The workers feel that they're being made to pay off the money used to bail out a number of British banks.
In central London, around twenty thousand strikers and supporters from almost thirty different trade unions gathered for a march.
They felt that the Government was acting unfairly but opposition politicians could be found standing side by side with striking workers.
The protest made its way through the city, fuelled by the words spoken by the Government just twenty four hours before.
The announcement by the Chancellor of the Exchequer that public sector pay rises were to be capped at one percent, and that the number of jobs set to be cut could double, has done nothing to stem the anger of the thousands upon thousands of people now marching through central London. As you can probably see, everyone from the youngest to the very oldest has turned out to make their voices heard.
The march culminated in a rally by the River Thames, where union leaders and workers addressed crowds.
By the end of the day, the action was being seen by the workers as a success. Thousands of schools were closed and hundreds of hospital operations were rescheduled.
The Prime Minister David Cameron described the strike as "a damp squib", pointing out that most major services were still running and contingency measures to counteract the effects of the industrial action had worked.
But for those on the streets, they had made it clear that the money they are to survive on once they reach old age was not to be messed with.