Syria
VIDEO REPORT: Fightings Rages South Aleppo After Syrian Army's Attack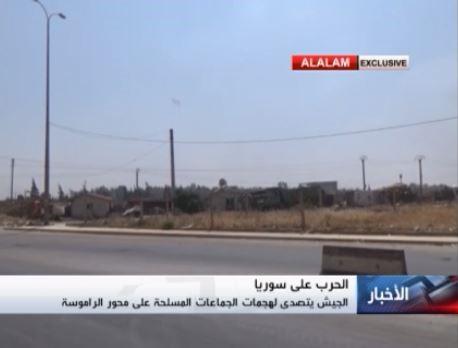 Intense battles raged from Thursday in Syria's northern province of Aleppo, just hours after government troops unleashed Morning strikes on Jaish Al Fath positions in the province's southern countryside.
Lebanese Hezbollah Resistance fighter, Syrian NDF and Russian air forces alongside Syrian Army attacked and rebels' Jaish al Fateh in all areas in the southern countryside of Aleppo.
Artillery and rocket shelling by the Syrian army on the positions of Jaish al-Fateh left the rebels in a state of "confusion.
According to Al-Alam report, many rebels were either killed or wounded by the shelling on al-Ramouseh, Musherfeh, and the Project 1070 areas in southwestern Aleppo.
Meanwhile, opposition activists said that a rebel commander was killed in the Project 1070 area during battles with government forces.
Yousef Zaoua, the general military commander of the Jaish Al-Mujahideen terrorist faction, was killed today by the Syrian Army in the intense firefights of southwest Aleppo.
The Syrian army carried out a preemptive strike against a rebel position in the countryside of Aleppo on Wednesday evening, inflicting hefty losses among the opposition militants.
The military forces targeted gatherings of the rebels' Jaish al-Fateh group in the Project 1070 area, one of several areas that have recently fallen to Jaish al-Fateh, in the southern countryside of Aleppo.
The source noted that the rebels were preparing to unleash an all-out offensive in Aleppo.
According to SANA the Syrian and Russian air forces dealt "decisive strikes" on the positions of Jaish al-Fateh in southern Aleppo killing large numbers of them and destroying armored vehicles outfitted with machine guns.
The strikes destroyed four command centers, three booby-trapped vehicles and dozens of armored vehicles, SANA added.
It said the Russian and Syrian air forces had killed hundreds of terrorists a day earlier in Aleppo, isolating the battle areas from the rest of the province.
Jaish al-Fateh announced last Monday that the next phase of battles in Aleppo will be a wide-scale offensive to "liberate the entire city" from government forces.
Jaish al-Fateh, or the Army of Conquest, an alliance of several rebel factions, was reportedly formed in March 2015 under the supervision and coordination of Saudi cleric Abdullah al-Muhaysini.
Aleppo is strategic for all warring parties due to its key location beside the Turkish border and role as Syria's industrial capital.