Korea
North America
VIDEO: Satanic US warship starts drill with American Puppet South Korea amid tensions with North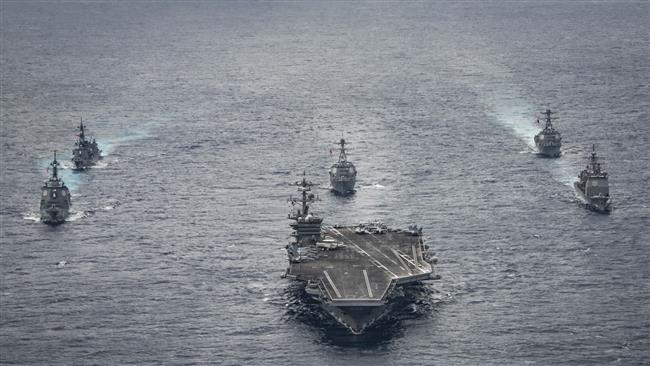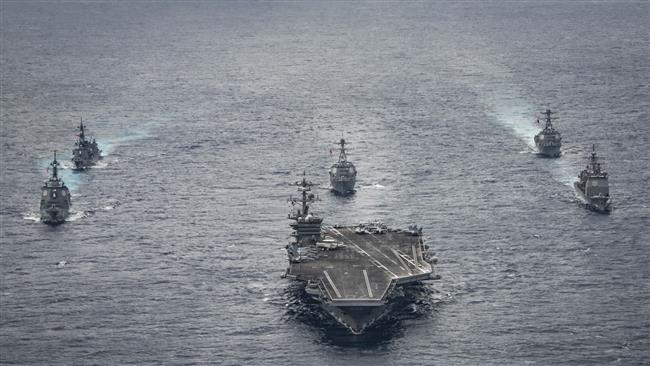 The US aircraft carrier USS Carl Vinson has started a joint drill with the South Korean navy, according to officials, amid tensions between the United States and North Korea.
"Immediately after the aircraft carrier arrived in the Sea of Japan, South Korea and the US strike forces launched a drill from 6:00 pm (0900 GMT) Saturday," a South Korean defense ministry spokesman told AFP on Saturday.
The drill came hours after neighboring countries said North Korea had conducted a ballistic missile launch, which most likely failed.
The United States has already sent a nuclear submarine to South Korea. The USS Michigan, which is a guided missile submarine, arrived in the port city of Busan, South Korea, earlier this week.
The Ohio class submarine will join the aircraft carrier for the joint exercise.
Earlier on Saturday, footage posted by Japanese broadcaster NHK showed the USS Carl Vinson passing through the waters off the coast of Nagasaki, southern Japan.
Washington had earlier said that its recent naval deployment to the region was a show of force meant to send a message to Pyongyang.
The two countries have been engaged in a war of words over Pyongyang's nuclear and missile programs.
On Friday, US Secretary of State Rex Tillerson called for more sanctions against North Korea and said that "all options must remain on the table."
"The threat of a North Korean nuclear attack on Seoul or Tokyo is real, and it is likely only a matter of time before North Korea develops the capability to strike the US mainland," Tillerson told a UN Security Council meeting.
Tillerson made the remarks hours after US President Donald Trump said that a "major conflict" with North Korea was "absolutely" possible in the ongoing standoff over its nuclear and missile programs.
Chinese Foreign Minister Wang Yi meanwhile warned the United States against using military force against North Korea.
The Trump administration has said previously all options are on the table, and has sent an aircraft carrier and a nuclear-powered submarine to the region in a show of force.
The US military has also begun transporting parts of the controversial THAAD missile system to a planned deployment site in South Korea.
Pyongyang has threatened the US with a nuclear attack in case of a direct military action, and has indicated that weapons tests would continue more frequently.