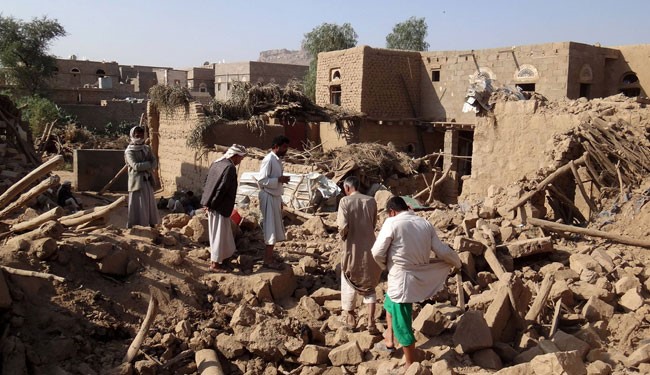 In Saudi airstrike on civilian region of Yemen in 2 day at least 26 people Killed and dozens Injured.
On Friday Saudi military aircrafts launched two separate airstrikes against residential neighborhoods in Yemen, killing nearly a dozen civilians.
At least four women and five children lost their lives on Friday after Saudi fighter jets struck an area in the Arhab district of the western Yemeni province of Sanaa.
Earlier on Friday, a civilian was killed and three others were wounded after Saudi warplanes pounded a cultural center in the adjacent coastal province of Hudaydah, FNA reports.
The Saudi-led Coalition's air force launched a number of airstrikes over the Saada Governorate on Thursday, killing as many as 16 civilians near a residential neighborhood.
The aftermath of these Saudi airstrikes was captured by local activists; they would show the sheer destruction caused by their neighbors to the north.