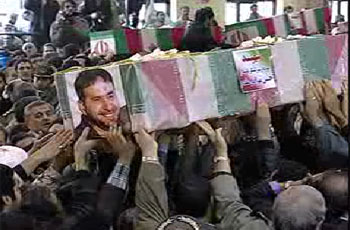 The Leader of Islamic Ummah and Oppressed People Imam Sayyed Ali Khamenei attended the funeral of military forces who were martyred in an explosion at an Islamic Revolution Guards Corps (IRGC) base west of Tehran.
A number of IRGC commanders and Iranian officials also attended the funeral which was held in Tehran on Monday, IRNA reported.
The explosion happened on Saturday when a munitions depot caught fire at the IRGC base in Bidgeneh village — located on the outskirts of Shahriyar city, about 35 kilometers (21 miles) west of Tehran.
A total of 17 IRGC forces, including Brigadier General Hassan Tehrani, were martyred and 16 others were seriously injured in the explosion.
The IRGC announced that the explosion occurred as the troops were moving munitions inside the barracks.
On Sunday Head of the IRGC Public Relations Department Lieutenant General Ramezan Sharif ruled out the possibility of sabotage, saying that investigations to determine the main cause of the incident are underway.
Sharif added that all casualties were IRGC personnel and no civilians were killed or injured.