Syria
VIDEO: Syrian Army Pounds Heavily Terrorists' Fortifications North of Aleppo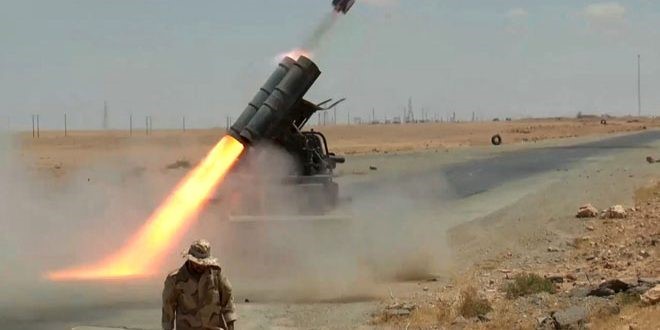 Artillery and missile units of the Syrian Army opened heavy fire at the militant groups' strongholds in Northern Aleppo, leaving scores of the terrorists dead or wounded, battlefield sources said.
"The militants' concentration centers and gatherings in al-Lairamoun and Castillo region came under the heavy shelling of the Syrian artillery and missile units, which not only inflicted a heavy death toll on the militants but caused their commanders to call for urgent dispatch of more fresh forces and medical back up," the sources said.
Battlefield sources in Syria earlier today refuted the terrorists' claims about advancing in Northern Aleppo, and underlined the government forces' full control over the newly-liberated territories in the province.
"The Syrian soldiers and their popular allies fended off large-scale offensive of the al-Nusra Front and Nouralddeen al-Zinki terrorists on the government forces' stronghold in the Southern farms of al-Malaah region and the Northern side of Castillo highway, the only supply line to the terrorist-held districts of Aleppo city," the sources said.
"The terrorist groups stormed the government positions by several bomb-laden suicide vehicles, but the Syrian soldiers targeted and detonated them before reaching the army's defense lines," they added.
"Hundreds of terrorists, then, stormed the army's positions but their attacks were repelled by the army men and popular forces," the sources said.
"The militant groups left behind dozens of their dead and wounded members and fled the battlefield without any gain."
"Al-Malaah region is under full control of the Syrian military forces, and the Castillo highway is still closed and under full fire control of the army," they underlined, FNA reported.