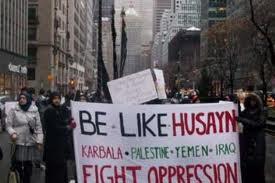 At the largest mosque on the American East coast, more than a thousand worshipers gathered to remember the mourning of Ashura.
The Imam Al-Khoei Islamic Center in Queens New York, conducted services in several languages including Urdu, Arabic, Farsi and English.
The morning prayers and lecture were only part of this day considered to be one of the holiest on the Shia Muslim calender.
Mosque officials would not allow Press TV to record the actual Ashura Martyr Procession. Worshipers here say they are skeptical of all media after they say some previous reports have presented this event in a negative light.
During the ceremony some participants engage in beating on their chests.
Even though the act is symbolic here, worshipers say it is something westerners still do not understand.
And just a day after bombers struck Muslim processions in Iraq and Afghanistan, worshipers here say they pride themselves on the diversity of their mosque and their community.