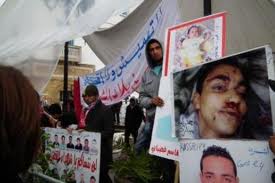 The Post-High Authority for Elections of Tunisia (ISIE) has honored the memory of the country's revolution martyrs, Press TV reported.
ISIE president Kamal El Jandoubi inaugurated the ceremony which was attended by families of the martyrs and those who were wounded during the uprising which led to the ouster of dictator Zine El Abidine Ben Ali in January.
Despite Tunisia's first 'free' elections, revolution martyrs' families slam the Interim government for its reluctance to prosecute those who ordered the killings during anti-Ben Ali protests.
The martyrs' families and the wounded said they were trapped in bureaucratic red-tape instigated by both the interim government and the newly elected-government concerning the medical care and respect which they deserve.
They also voiced their concern about the government's attempts to politicize their cause as they continue to struggle with poverty and inept medical care.
"The state did not compensate the families, did not provided their medical care and did not prosecute the guilty," ISIE member Ridha Turkhani told Press TV.
Kamal Jandoubi applauded the martyrs and the wounded for their efforts to pave the way for the formation of the new government.
The martyrs' families and the wounded, however, called on Saudi Arabia to hand over the ousted President Zine El Abidine Ben Ali.
In January, Tunisians held massive street protests, which finally toppled US-backed dictator Zine El Abidine Ben Ali after 23 years in power.
Ben Ali fled to Saudi Arabia as the Tunisian Revolution was gaining momentum.