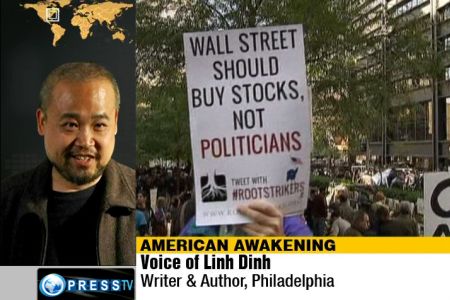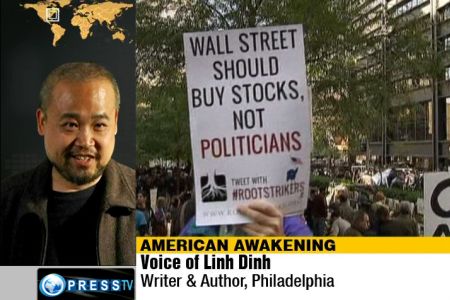 Thousands of people have joined the protest rallies across the United States in an attempt to change the country's financial system and war policy.
Press TV has interviewed with Linh Dinh, Writer and Author from Philadelphia, to share his opinion on this issue.
Press TV: These protests are spreading across the US like the Arab Spring, are they not?
Dinh: Yes, and there are more people showing up of all types of people, it is not just the young people, small children, very old people; there are union members, blue collar people, intellectuals, everybody is there but they watch the executives. So yes, it is spreading very quickly.
Press TV: We are seeing the people in the US are quite fed up with corporate greed and that the government cannot seem to produce any new jobs. What holds for the future for the US?
Dinh: Well it is hard to say because the political party is so corrupt and they have no solution. But the anger, the frustration is boiling over as you can see but so far the protesters have made no concrete demands and many observers have point this out that the protesters have no clear demand. I am a little frustrated about that myself and I talked to one of the young protesters yesterday and he said they do not want to narrow down a few demands because each community has different problems. And he said that there are already intellectuals out there explaining what is wrong.
So if only people would pay attention, they can see what needs to be done. For example, when they march they talk about ending the war. Ending the war would be one solution to bring that money back home because the money is needed back home to help solve the problems in the United States. So they wish to end the war and tax the rich. You know, instead of giving money to the rich, we should tax the rich. It seems that they are so innocent. They have concrete demands when they are marching and you can read their signs. They are clear demands, it is just they have not released an official list of demands.
So solution would be in these words, these needless words and to tax the rich instead of giving money to them because it is a kind of outright stealing from the treasury when you bailout these banks. So, yes, they are obvious solutions, it is just that the political press is not doing anything about it.
Press TV: If you say the demands, you have talked to one of the young protesters and there have been no demands put out yet, if the demands are put out do you think the government can answer?
Dinh: You know, unfortunately I do not think they would yield or would give any concessions, so I do not know what this would lead to, I am afraid that they won't view anything unless there is some threat to them whether is a general strike, I do not think violence would be the solution because I do not think these protesters can win any kind of battle if it comes down to violence but I think there is a way to disrupt the system and maybe having a strike would do something. They got to be away to interfere with the system without resorting to violence because I do not think the protesters can win if it comes to violence.