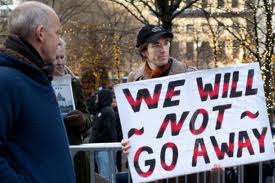 After a surge of protesters grabbed worldwide attention as part of the Occupy movement, many of the major tent cities that became symbolic of calls for widespread reforms have been removed. Some Occupy demonstrators are now relocated and call "DC" home, at least temporarily.
But even after some municipalities successfully remove Occupy encampments, the movement will live on; in court. Lawyers representing protesters have filed lawsuits – or are planning them – in state and federal courts nationwide–challenging eviction orders and what they call extreme policing and the banning of demonstrators from public properties.
The movement that largely started in New York to bring awareness to corporate excess and income inequality is readjusting to the struggles of staying viable.
There are still nearly 60 people who live in Occupy Freedom Plaza with an even bigger presence just blocks away at Occupy McPherson Square. Numbers of Occupy encampments like these are shrinking across the country. The big tent cities that were once in New York, Atlanta, Boston and parts of Florida and California have been forcibly removed.
City officials cite health concerns and the drain over crime fighting resources to accommodate the steady flow of people coming in and out of the tent communities. But demonstrators argue that it shouldn't hamper their right to peaceably assemble.
The National Lawyers Guild and the American Civil Liberties Union of Northern California sued the Oakland Police Department in federal court in November, saying police and other agencies violated demonstrators' Fourth Amendment rights by using excessive force against peaceful demonstrators. Lawyers say this is likely only the start of lawsuits that will work their way through the court system across the country.