Video- Venezuela, US unlikely to improve ties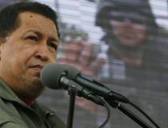 Almost one year after Caracas rejected Larry Palmer as the American ambassador to Venezuela and diplomatic ties were broken, the Venezuelan Minister for Foreign Affairs, Nicolas Maduro, said relations between the two countries are not likely to improve in the short term.
Maduro regretted that relations with Colombia have improved, but relations with the U.S. are not following the same path because of the most conservative and anti-Latin American right-wing factors, which he said have always despised Venezuela.
This revolutionary government has a particular way of dealing with the United States government because on one hand it has an anti-capitalist and anti-imperialist discourse and on the other is an oil-dependent rentier whose main customer is the U.S.
Washington's accusations on Caracas have appeared on many grounds. The U.S. believes that Venezuela's fight against drugs is limited and included Venezuelan officials on a list of drug traffickers for their alleged support of Colombian insurgent groups. Washington has also accused Venezuela of harassing and intimidating religious groups.
In spite of the bumpy road, the American-Venezuelan Chamber says that the U.S. remains Venezuela's main oil market with a 35.39% increase in crude oil exports in the first semester of this year compared to the same period of 2012. The shipments to the U.S. make up almost all of Venezuela's exports with 1 million barrels per day.
Although trade between Venezuela and the U.S. increased more than 40% last year, the Venezuelan government has responded to the constant accusations by the Obama administration and said it will not stop demanding respect for the dignity of the Venezuelan people.