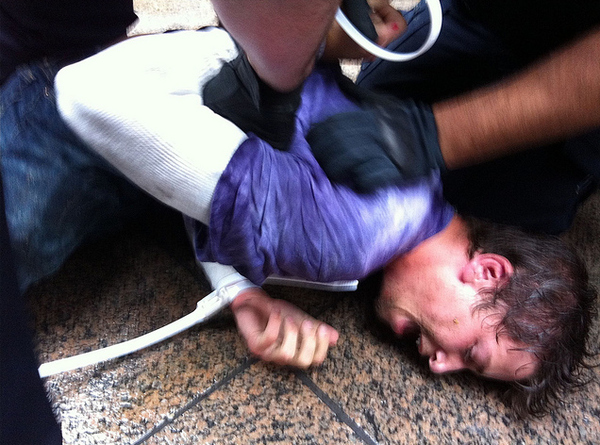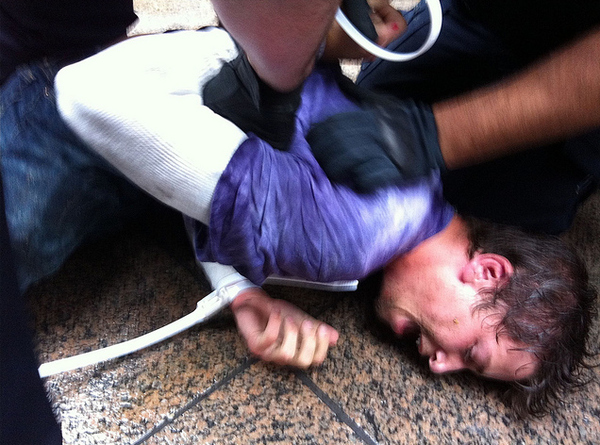 Marches continued through DC in solidarity with the surge of protests happening across the US. At the weekend, protests spanned from West to East coast in nearly 100 cities and more than 600 communities joining waves of civil dissent. Protests have also been reported in parts of Canada.
The National Air and Space Museum in Washington was closed this weekend after demonstrators swarmed the building to protest against a drone exhibit. Security guards used pepper spray to repel them. Jeremy Ryan who is disabled and uses this segway to get around was there.
Some protesters were arrested.
A number of groups have demonstrated in DC over the past week. The group that was stopped at the museum included members participating in the Stop the Machine demonstration that started here in Freedom Plaza. The majority of the people here are trying to convey an anti-war and anti-corporate greed message.
After four days of protests and marches, demonstrators are now discussing the future of their movement. Civil disobedience discussions are being held even as they face the threat of arrests.
With the outpouring of support from these demonstrations, protesters say they won't rest until serious changes are made in domestic and foreign policies. While Democrats seem willing to tap into dissatisfaction, Republican presidential candidates are criticizing the protests, which seem to be only adding fuel to fiery frustration.